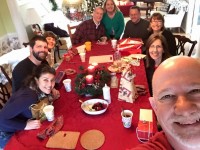 Pastor Ed recently said that as Gateway gets bigger, we need to become smaller -- Small Groups are part of our DNA. So I'd like to do a series of features about the Small Groups of our church, saying hello to the rest of the family, inviting others to jump in and join us, and let others know how God is working in our group.
The easiest group to start with is the one I attend. But I hope that someone from each other small group will answer the same questions!
Who is in your group? Rob and Evie Showers lead this Small Group. This picture was taken at our Christmas party. Other members are Renée and Erik Saunders, me (Sondy Eklund), George and Nancy Dennis, and Debbie and Ray Schmidt.
When and where do you meet? Sunday after church, in South Riding at Sondy's house. Because of distance and schedule issues, it works well for us to put our activities on the same day as the church service. We each grab some food and meet at my house to eat it. They used the church office before I joined, but I was happy they were able to take advantage of my nice close-to-Gateway location.
What about child care? We all have children, but they are all old enough to not need child care, so that's not available with this group.
What are you studying? We are currently slowly going through John Eldredge's book and workbook, Waking the Dead.
For me, this has been a powerful experience. As an example, I've been dealing with not getting a job I applied for which I thought I was uniquely suited for. This book looks at who God created you to be, so helped me get through that experience with my self-identity intact.
What are some answers to prayer your group has seen recently?
A healthy grandbaby born safely after a difficult pregnancy
Biopsy results that came back benign
Business needs met
Two different young adult daughters who got successfully settled into a major city -- Boston and New York City
How has being in this group touched your life?
Ray Schmidt has a nice answer for this and speaks for the group: "For me, the smallness of the group has allowed us all to open our hearts and lives to each other. Seeing God work to "peel back the onion," so to speak, in each other's lives has been beautiful and breathtaking. A weekly reminder that our hearts do matter to God and that he is in it for the long run to renew and restore each of us, little by little and day by day, to be the men and women he created us to be."