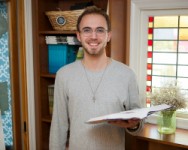 Our newest staff member at Gateway, Josh Dove, has answered some questions for the blog.
What is your official position with the youth?
Youth Associate
How long have you worked with the youth?
I have volunteered with the youth for 15 months. I began to feel called to work with youth while serving in campus ministry. I was attending Gateway at the time and decided to search for ways to get involved. Opportunities were abundant; the rest is history.
Tell us about a time you were blessed by the students.
This one is challenging. Each of the youth has been a blessing in their own unique, and sometimes crazy, way. However, above all, I love their passion and energy. They have a way of celebrating life that constantly pushes me to see the excitement in everything. That has been a huge blessing to me.
Tell us about a life you've seen touched.
I have been blown away by the youth here at Gateway time and time again. They have true hearts for God, each other, and unbelievers. It is a privilege to see them continue to deepen their faith, and step up to lead their peers.
One instance in particular stands out to me. As part of a discipleship program some of the youth and I were having conversations about God with random people at the mall. One of the youth was somewhat overwhelmed. Nevertheless, while talking to the first person that nervousness was superseded by faith and she felt completely empowered to talk to others about God. It was so exciting to see such a quick and dramatic change in her, and it has been even more thrilling to see God continue to nurture her heart for evangelism.
Thanks for answering these questions, Josh! We'll be praying that God uses you to touch many lives.